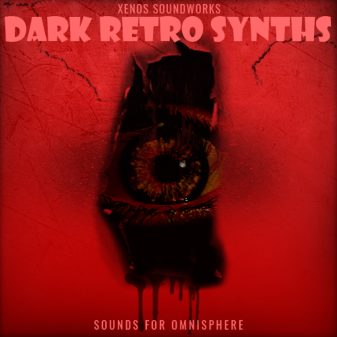 Description
'Dark Retro Synths' combines the sound of vintage synths with the suspenseful and moody atmosphere inspired by 1980's horror and sci-fi movies. This sound library is a handy toolkit for retro-inspired musical genres, and adding an oldschool flavor to horror and sci-fi film/game soundtracks.
This is not just a preset bank, but an actual expansion for Omnisphere. Along with the 75 new patches, we've also included 45 brand new sample soundsources to further enhance Omnisphere's impressive sample library. All the patches in this collection were created using only the custom sample soundsources and Omnisphere's synth waveforms.
Details:
- 75 Presets
- 45 new sample soundsources
100% Royalty-Free.
Requirements:
Spectrasonics Omnisphere Version 2.8 or higher.
Patch List
AT Alien Worlds
AT Apocalyptic Desolation
AT Cyborg Cemetary Dirge
AT Dissolved
AT Frozen Rust
AT Foul Glitchscape
AT Ghost Infestation
AT Mysterious Machine
AT Sadist Dungeon
AT Trippin' Birds
AT Windstorm
BA 80s Bass 1
BA 80s Bass 2
BA 80s Bass 3
BA 80s Bass 4
BA 80s Bass 5
BA Classic Deep Drone
BA DX Like
BA Mellow E Bass
BA Raging Pig
BA Warm Analog
BL Music Box
BL Pure Bells
BL Synth Chimes
BL Vintage Digital Bells
BL Vintage Tremolo
FX Dark Dub Noise Riser
FX Electropiss
FX Jason Stalking
FX Modular Madness
FX Psionic Singularity
FX Trippy Typewriter
HT Bonecracker
HT Deep Rumbly Hit
HT Metal Scrape 1
HT Metal Scrape 2
HT Spooky Gongs
HT Stunner
KB Acid Rock Clavi
KB Dark Dirty Grand
KB Fat N Churchy
KB Quivering Ana EP
KB Retro Synth Organ
LD Dusty Lead
LD Fat N Loud
LD Freddy K's Theme
LD Overdriven Solo
LD Retro Whiner
LD Vibro Worm
LD Vintage Solo
LD Vocalish Retro Lead
PD Analog Voices
PD Creepy High Drone
PD Lo-Fi Grit
PD Melancholy Analog Pad
PD Minimalist FM Swells
PD Mournful Analog Sweep
PD Retro Noisy Pad
PD Synth Horn Section
PD Tremolo Synth Strings
PD Wierd Science
PL Analog Arp Food
PL Bright Glide Plucks
PL Dark Dub Synth Pizzi
PL Late 80s Arp Food
PL Strobelight
PL Synth Harp
PL Trembling
PL Ubiquitous 80s Plucks
PL Wacky Modular Plucks
New Soundsource Samples
Attack - FM Harp
Attack - Wine Glass
Fearwave
Friction 1
Friction 2
Modeled Piano
Pig Waveform
XS Ana Bass
XS Ana Mod Wave
XS Ana Pipe Organ
XS Ana Saw
XS Analog Orch Wave
XS Biomech Hatchlings
XS Birds On Acid
XS Bright Digi Wave
XS Buchloid Machine
XS C Drone
XS Dark Drum Hit
XS Duct Tape 1
XS Duct Tape 3
XS Dusty Ana
XS Electropiss
XS Filter FM Layer
XS Foul Glitch
XS Ghost Myst
XS Ghostly Infestation
XS Glitch Showers
XS Gritty Pad
XS High Ana Strings
XS Jason Chee
XS Jason Haa
XS Low FM Vowel Wave
XS Metal Hit
XS Metal Scrape - Rusty
XS Metal Scrape Loop
XS Modular Synth Hit
XS Pain Drone
XS Quick Scrape
XS Roll Sweep
XS Rotary Pad
XS Scrape Hit
XS Synth Taser Hit
XS Typing
other products from this label