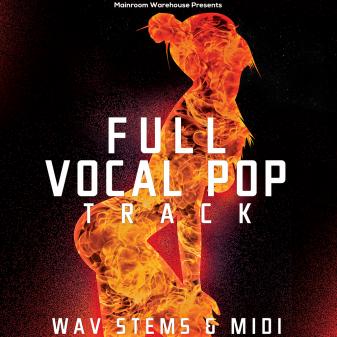 Full Vocal Pop Track Stems & MIDI
Description
Mainroom Warehouse is extremely pleased to release 'Full Vocal Pop Track Stems & MIDI' featuring one full complete Vocal Pop Track – WAV Stems & MIDI.
This is a great pack to learn how this complete track was put together with individual wav stems featuring a full vocal, drums, chords, pads, bass, pluck and more plus with MIDI included for all the main elements giving you full control to implement your own sounds or recreate them to make a whole new track mix, you can of course use the stems as is or manipulate them to your own taste for this or other productions, the vocal as well is 100% royalty free and is ready for you to chop and warp for you to incorporate into this or your own tracks with a wet version mastered with fx processing and a dry version not mastered with no processing ready for you to add your own fx flavours everything is here for you to create something new from the original or for you to use in your current projects.
What's In The Pack:
• 1 x Complete Production Vocal Pop Track;
• Wav Stems & MIDI;
• Vocal Stems Wet & Dry;
• 19 x Wav Stem Files;
• 5 x MIDI Files;
• Track Length – 3 Minutes 40 Seconds;
• BPM – 132;
• Song Key – G Major;
• Wet Vocal – Mastered Version With Effects;
• Dry Vocal – Unmastered Version With No Processing;
• All other stems are unmastered with levels ready for you to master;
• Lyrics Text File Included;
• MIDIs included are all the main elements of the track;
• 332MB Zipped | 1.05GB Unzipped;
• Everything 100% Royalty Free.
WAV Stems Breakdown:
• Dancey Chords;
• Drone;
• Drum Bus;
• Hat;
• Instruments Bus;
• Kick;
• Loop2;
• Open Hat;
• Pad Chords;
• Pluck;
• Bass;
• Reverse Snare;
• Saw Chords;
• Snare Clap Bus;
• Sweep;
• Clap;
• Vocal Wet;
• Vocal Dry;
• Chant.
MIDI Breakdown:
• Dancey Chords;
• Pad Chords;
• Pluck;
• Bass;
• Saw Chords.
other products from this label