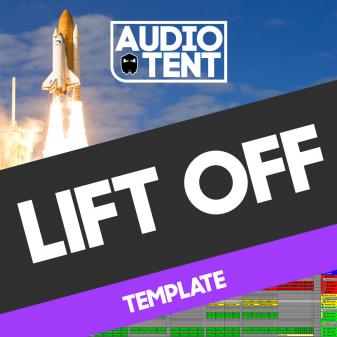 Lift Off - Ableton Live Template
Description
"Lift Off" is an action packed Progressive House Template for Ableton Live. This
template has everything from filtered down chords, super solid bass to in your face
leads all created from scratch by one of our Audiotent sound engineers. Inside the
template you will see what it takes to create, arrange, mix and master a ready to release Progressive House anthem.
Audiotent want to help producers of all levels achieve their music production goals and as an added bonus inside the project they've included three exclusive producer tips that relate to certain elements of the template.
Catch the ear of A&R managers around the world and get your music signed.
Download, learn and be inspired.
Sounds exactly like the Audio Demo (if you have the required plug-ins listed below)
All MIDI and Audio channels with FX chains and mixing included
All the MIDI files included
All the Audio files included
All the Synthesizer presets included
In order take full advantage of this project, you will need:
Ableton Suite 9 or higher Reveal Sound Spire v1.0 or higher (Please insure you
have Reveal Sound Spire installed on your system before purchasing)
The Ableton Live Template comes loaded up with the arrangement (as heard in the
audio demo), mixing, FX chains, MIDI data and automation. It all comes loaded with all the samples and synth presets so you will get what you hear in the demo if you have these synths. It is 100% royalty free and can be used as a base for your upcoming tracks or as an educational and inspirational tool. All sections (basslines, leads, FX, drums) are color-coded and named correctly so you know exactly what you are looking at.
More Details:
Type : Progressive House Ableton Live Template (.als)
Support : Instant Download
BPM (Beats Per Minute) : 128
Inside the pack....
1x Ableton Live Project File9x Audio Tracks30x Midi Tracks14x Reveal Sound Spire
Presets
24x One Shot Samples
3x Ableton Project Lessons/Tips
• Instant Download
• Royalty Free
• Progressive House Ableton Live Template (.als)
• Download Size: 71 MB
other products from this label