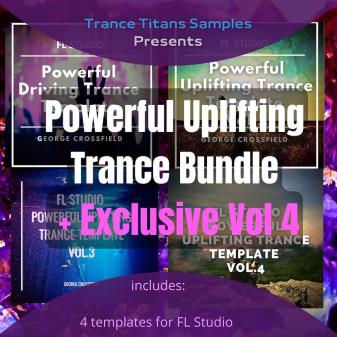 Powerful Uplifting Trance Bundle + Exclusive Vol.4
Description
Trance Titans Samples - Powerful Uplifting Trance Bundle + Exclusive Vol.4
George Crossfield is glad bring you this Powerful Uplifting Trance Bundle which includes 4 templates for FL Studio with the exclusive vol. 4 included only in this bundle.
In this bundle, you can find good quality templates, which will teach you how to produce a track like your favorite artists, such as powerful and present basslines in the track, with a strong and marked kick, present drums, aggressive acids, uplifting and atmospheric breakdown and powerful leads.
These templates will help you create your next hit and you will learn new arranging and mixing techniques that great artists use in their productions.
What do I need to open these templates?
Each template includes a txt file with the specific plugins for that template, but here is the complete list of all:
⦁ FL Studio 11.1 and up versions
⦁ Sylenth1 V3.
⦁ Spire 1.1.13 and up verions.
⦁ Nexus.
⦁ Synth1 (Free).
⦁ Vanguard.
⦁ TruePianos.
⦁ Hive.
⦁ DVS Guitar (Free).
⦁ Orchestral.
⦁ GClip (Free).
⦁ CamelCrusher (Free).
⦁ LFOTool.
⦁ Kickstart.
⦁ Classic Compressor.
⦁ Classic Delay.
⦁ XBass4000.
⦁ OTT )Free).
⦁ Volumen Shaper 3.
⦁ Volumen Shaper 4.
⦁ VahallaRoom.
⦁ VahallaVintageVerb.
⦁ RBass.
⦁ RCompressor.
⦁ ArtAcousticReverb.
⦁ SPL Transient Designer.
⦁ Sonalksis Creative Filter.
⦁ Fabfilter Pro Q.
⦁ PanCake 2 (Free).
⦁ TAL Flanger.
⦁ Loudmax (Free).
⦁ Sonalksis FreeG (Free).
Notes:
⦁ These templates is for learning purpose only.
⦁ You are not authorized to release any of these templates as your own.
⦁ The melodies are copyrighted.
⦁ You can create a new track based on any of these templates.
⦁ You can use the samples, presets and mixer presets in your own productions.
other products from this label