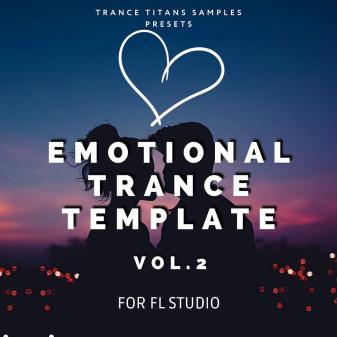 FL Studio Emotional Trance Template Vol.2
Description
Trance Titans Samples - FL Studio Emotional Trance Template Vol.2
We are happy to present you this new template created for FL Studio users in a Classic Emotional Uplifting Trance style inspired by old school producers like Andy Blueman, Ico, Soundlift, Afternova, Simon O'Shine, Infite, among many others.
This template is inspired by the golden age of Orchestral Uplifting Trance, containing dynamic basslines, an orchestral breakdown, classic of the style, but combined with a more modern style, like a powerful sub bass, punchy drums and powerful leads, but without losing that essence. of the style.
This track is the remix made by Trance Titans Samples founder George Crossfield for the Nikolauss - Victory Of Life track released on Trancer Reordings.
Features:
⦁ All sections (basslines, leads, FX, drums) are color-coded and named correctly so you know exactly what you are looking at.
⦁ Sounds exactly like the audio demo if you have the plugins listed below
What can I learn from this product?
⦁ Study how the arrangement was put together
⦁ Learn from studying each individual track (MIDI / Audio)
⦁ Find out how the mixing was done, and how each track was processed
⦁ Learn how the melodies & bassline patterns were designed
⦁ Learn from the synth presets included, which settings were used to make each type of sound
⦁ Get inspired for your own productions
⦁ Overall, an excellent way of learning more about producing Emotional Uplifting Trance in FL Studio
Requeriments:
⦁ FL Studio 11.1 Or Up Versions.
⦁ Sylenth1 V3.067 Or Up Versions.
⦁ TruePianos.
⦁ Pianissimo.
⦁ World Music Day Strings (Free Plugin).
⦁ Sonatina Violin (Free Plugin).
⦁ Decent Sampler (Soft Strings Spurs Library) (Free Plugin).
⦁ Nexus.
⦁ Cytomic The Glue.
⦁ GVST GClip (Free Plugin).
⦁ CamelCrusher (Free Plugin).
⦁ Analog Obssession SPECOMP (Free Plugin).
⦁ Kickstart.
⦁ Analog Obssession ReLife (Free Plugin).
⦁ ArtsAcoustic Reverb.
Notes:
⦁ This template is for learning purposes only!
⦁ You don't have the rights to release it on a music label!
⦁ The melodies are copyrighted!.
⦁ Feel free to use any elements of the template (except midi melodies) and presets in your own works/tracks.
other products from this label